DARK FICTION

ZUPHREEN
Three unlikely friends unwittingly unleash the horrors of hell in a vain attempt to boost their plummeting grades. Duped by their scheming professor, the friends summon Zuphreen and command the evil demon to enhance their lives with his gifts. But the gifts soon become curses and the friends watch in horror as they slowly turn into monsters. In a desperate race against time, the students must undo the curses and defeat the demon before the "gifts" destroy them forever. How far would they go to lift these curses? How deep would they sink to save themselves?
Available from
Amazon.com
---
ABERRANCY

Will your sins find you out?
Robert Williamson, esteemed judge, adoring husband, and doting father, has his flawless life snatched away, leaving him damaged beyond repair—damaged by a witch whose taunting presence spells his destruction.
Before exacting his revenge, Robert is hell-bent on digging out explanations.
His demands are wild, his interrogation method peculiar, and what he seeks most might well cost him what remains of his sanity—and he knows it.
Despite horrible odds, Robert refuses to give in.
Aberrancy is a gripping dark tale of lives lost...to a different kind of evil.
Available from:
---
HELLBOUND

One-way ticket to Hell.
Bart is a greedy morgue attendant with money on his mind. He gets more than what he bargains for when he chances upon a pain-letter, one he must pass on or bear the consequences of his inaction.
Stan is a chiseler, a fake medium, preying on his unsuspecting clients' earnings through bogus channeling sessions. When he meets mysterious Joanna Stark, he believes her promises of powers beyond his comprehension, powers blessed by the Netherworld.
Jenna gives up her old life and career to settle down as Troy's loving wife. He is a God-fearing man who will consent only to marriage. Except fate maps a different ending to their love story, a conclusion that takes them both down and never up again.
Bart, Stan, and Jenna are destined to go on a long and abominable journey that sinks them below their expectations and forces them to endure pain and anguish beyond their worst nightmares.
On the paths leading to the depths of Hell, their sins don't matter!
Read the 5 stars review from Readers' Favorite
here
.
Available from:
---
INTRICATE ENTANGLEMENT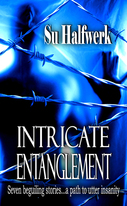 Trapped in a lunatic asylum and compelled to listen to the stories of the deranged patients, Doug Pinkham becomes entangled in the twisted mind of a cold-blooded killer. As the reporter tries to get to the bottom of a mysterious murder case, he gets more than he bargained for. He must separate truth from fiction as he realizes he no longer controls his own world. But will Doug manage to escape the asylum, or will the killer's stories lure him into an enigmatic world full of mazes, each so fascinating that he can't stop listening?
Watch the trailer here.
Available from:
Currently unavailable
---
---
---
---
---